2017-02-11
There is a temporary trail at Shawnee Lookout until the beginning of March. You can walk the eighteen holes of the golf course using the cart trail.
Golf Cart Trailhead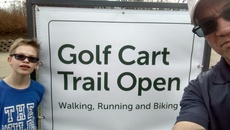 You can walk, run or bike the golf cart trail without the danger of flying balls this winter while the course is closed. This is a strenuous trail, Nate and I were impressed with number of hills that can be packed into 3.75 miles of paved trail.
I recommend taking a water bottle for this. All of the fountains are turned off for the season. Park at the golf course parking lot and choose which nine you want to do first. We did them in order, I may do the back nine first next time. I can't prove it, but I swear it is steeper.
The pedometer said I had 9829 steps in 87 minutes. Actual clock time was closer to 100 minutes. Nate wanted to check out each bench along the way. I decided we burned enough calories for a stop at Dairy Queen after this one.
---