12 March 2017
I bought my youngest and smallest a pack from Campmor. Nate is a small kid for his age and I've tried to find a pack to fit his frame for the past year. The Outdoor Products Dragonfly Frame Pack 8.0 finally fit the bill. We woke up to another chilly Sunday so we decided it would be a good day to put packs on and work on technique.
I like to just put a couple of two liter bottles of water in a pack to get a feel for how to adjust it. That's enough to give me an idea of where to put the loads and if the kid starts to bonk it's easy to pour the water out. I remember thinking that the yellow trail would make a good training hike for the scout troop last month and wanted to give a try with my favorite hiking partner.
Nate crossing the suspension bridge.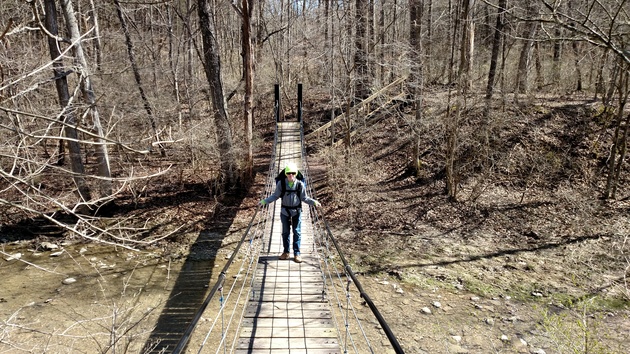 This is a good trail for shaking down young backpackers. Just enough hills and muck so they get an idea for the technique. Stop every mile or so and check the pack for fit, and they will get the hang of it pretty quickly. The Dragonfly is definitely a win for a smaller kid. Plenty of adjustment points and hip belt isn't so huge to be worthless.
---